GENERAL SURGICAL / Smoke Evacuators
Smoke Shark

SKU: qmeSmokeShark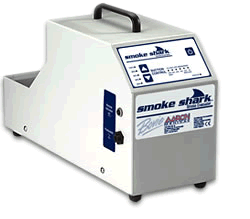 Manufacturers Specification Sheet
Click [here] to view manufacturers specification sheet
Description
The four-stage filter captures particles down to 0.01 µm with 99.99995% efficiency. The 24 ounces of carbon contained in the SSE-101 filter, over twenty times the amount of a competing brand, does a superior job in odor elimination.
Features
Can be purchased with a rolling stand and/or armstand (for holding tubing)
Specifications
Comes with Pneumatic Footswitch and 18 hour Carbon Filter
Need supplies??? See "Equipment Disposables" on our home page.
Price: $1,499.00