STERILIZATION and DISINFECTION / Autoclaves
M-11

SKU: QMEm11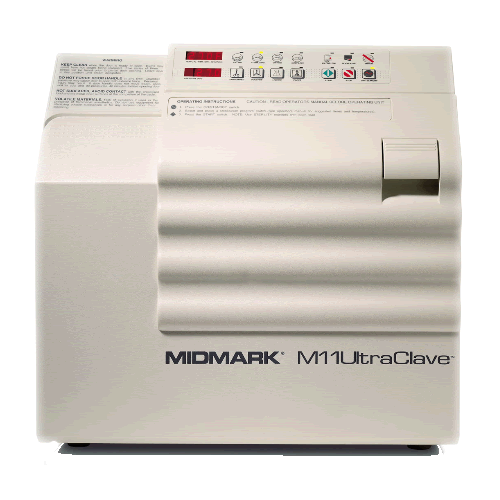 Description
The Midmark M11 is a fully-automated, microprocessor-controlled sterilizer with an 11-inch, round, stainless-steel chamber.
Features
All selections are preset for drying except for the liquids cycle. Upon completion of the sterilization cycle, the unit exhausts and the door automatically opens.
The microprocessor- controlled parameters are constantly monitored to assure proper sterilization for each program cycle selected. The controller sequences through the complete cycle at the touch of one of the four icon-marked programs on the Padswitch (e.g., wrapped, unwrapped, paper/plastic pouches, or liquids).
All sterilization parameters (date, time, pressure, and temperature), are digitally displayed and can be recorded with an optional printer. The digital display indicates functioning checks during operation and error codes for testing and trouble shooting.
Specifications
The system operates at 110/120 volts ± 5 %, 50/60 Hz, with a loading of 1.4kW
The exterior dimensions of the sterilizer are 17 inches high by 18 inches wide by 22 inches deep (handle included) or 22¾ inches deep (with power cord connector).
UL Listed and ISO 9001 certified.
Call For Pricing